KYOTO, JAPAN (June 2022) — Ushio Inc. (Head Office: Tokyo; President and CEO: Koji Naito; subsequently referred to as "Ushio") has completed reliability testing of its large short-wavelength infrared (SWIR) LED chips, the result of which has determined the maximum current value (Imax) can be raised without modifying existing Epitex SWIR LED chip and package designs. The new maximum current values define a DC ampage increase of 50% to 1.5 A, while pulsed current doubles from 2 A to 4 A. The shipment of Epitex SWIR LEDs, with the increased maximum current specifications, will commence following an official announcement expected in the coming months.
As a result, the maximum output power of SMBB– and EDC-packaged Epitex D Series SWIR LED chips has increased by 1.2–1.4 times in continuous wave (CW) operation, while pulsed drive benefits from an improvement of 1.7–1.9 times the previously recommended limit. This news will be of particular interest in pulsed light applications, such as optical sorting and other machine vision applications.
Ushio Epitex D series SWIR LED reliability test data
Ushio Epitex D series SWIR LED reliability testing conclusion
As LEDs deteriorate, defects in the light-emitting layer of the semiconductor generally increase and the leakage current can become larger. The reliability testing carried out by Ushio indicates that there is no qualitative degradation to the light-emitting layer of the semiconductor, even after the LED has been in operation for periods in excess of 1,000 hours; therefore, while the existing product design will not change, the conditions under which the LED can operate have now changed. This results in the following improvements to the maximum current values: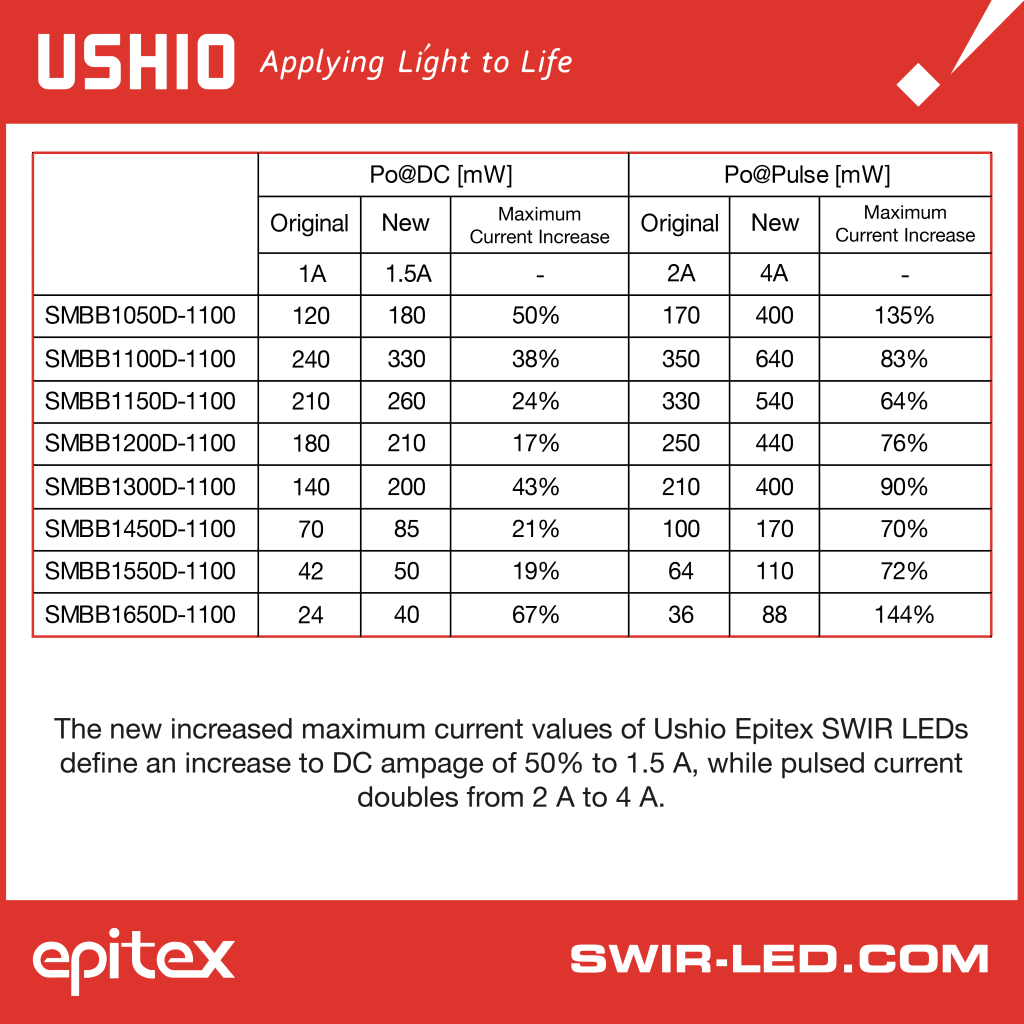 Contact Ushio about Epitex D Series SWIR LED chips
If you would like to make an enquiry regarding the suitability of Ushio's Epitex D Series SWIR LED chips for your project, please contact us here.
Don't get left behind!
Looking to stay up-to-date with the latest breakthroughs, product releases, and features hitting the market? Join the SWIR-LED Club for FREE and get Ushio Epitex news deliver your mailbox.